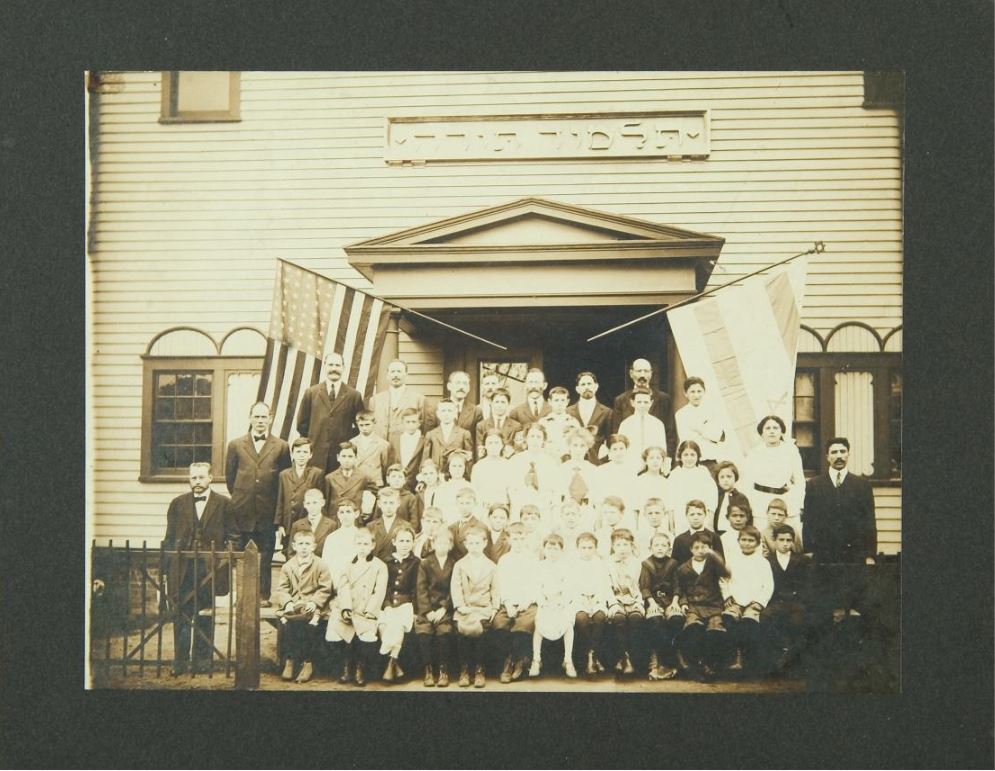 The first reference to a Jew in Connecticut was to "David the Jew." In 1659, he was fined 20 shillings by the city of Hartford. His crime: going into houses when the household heads were absent and trading with the children.
In the decades that followed, there were several scattered references to Jews in Connecticut. These first Jews were mostly Portuguese and Spanish, and by the late 1700s there were enough of them in the city of Hartford for the city to have a "Jew Street."
However, those early Jews faced a serious problem: The Congregational Church was the established church of Connecticut. Every other religion, including Judaism, had restricted rights. Jews couldn't vote, have their own congregation, or even have their own cemetery. Even after the United States was founded and the 1st Amendment passed, the Congregational Church remained the established church. It wasn't until 1818, when a new state constitution was ratified, that the Congregational Church was disestablished. However, Jews still didn't enjoy some of the same rights as Christians, namely the right to build their own congregations. This would have to wait until 1843.
By then, there was a growing yet small population of German Jews in Connecticut, usually coming from neighboring New York. In 1847, in Hartford, these German Jews created the first Jewish congregation, Beth Israel. Many of them were successful businessmen, and over time became Reform Jews. They also were a fairly small population; by the 1870s, there were fewer than 2,000 Jews in the whole state, most of them in Hartford and New Haven.
However, things began to change. Between 1881 and 1924, massive numbers of Eastern European Jews immigrated to the United States; the vast majority coming in to New York.  Many of them resettled in nearby Connecticut. These Jews were poor, Orthodox, and far more numerous than the German Jews. By 1927, there were over 90,000 Jews in Connecticut. By 1938, over five and a half percent of the state was Jewish, the highest proportion of Jews in any state outside of New York and New Jersey. Similarly, Hartford and New Haven were both 1/6 Jewish, the highest proportion for any city in the country outside of New York City and Atlantic City.
Today, according to Jewish Virtual Library, there are around 117,850 Jews in Connecticut, the tenth highest state in terms of Jewish population. The largest Jewish cities are still Hartford and New Haven, although a large number of Jews also live on the southwestern part of the state, close to New York City.
If you want to learn more about Connecticut's Jewish history, there are some valuable sources to look at:
Immigrant Settlement in Connecticut: Their Growth and Characteristics, by Samuel Koening [Hartford; Connecticut State Department of Education, 1938]. Call# 000042843, YIVO Institute for Jewish Research
The Foreign Population of Connecticut, 1940, by Nathan L. Whetton [Storrs: Storrs Agricultural Experimental Station, 1943], Call# 000042810, YIVO Institute for Jewish Research
Connecticut Jewish Historical Album, by Leon Spitz [New Haven: S.N., 1935], Call# F105.J5 S4, YIVO Institute for Jewish Research
Jacob Heisler, an independent blog contributor, is a graduate of McGill University with a B.A. in History and Anthropology. He is a budding genealogist from Norwalk, Connecticut.