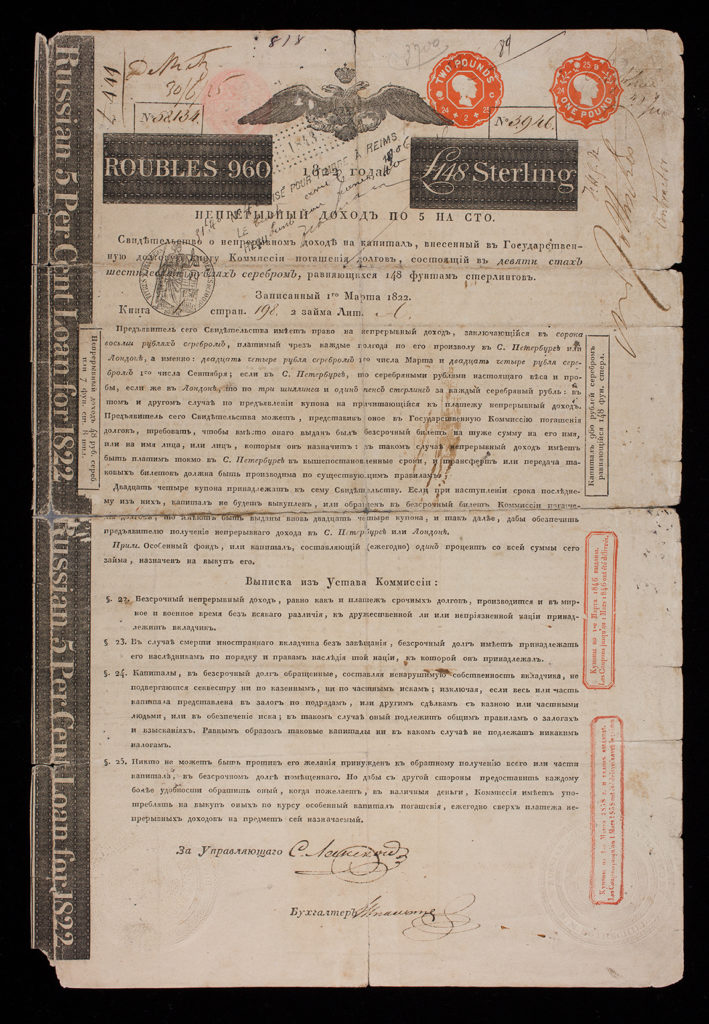 In July 2018, the Center for Jewish History received a rare collection of Jewish bonds and financial paper in support of settlement in the land of Israel and later the State of Israel.  The donor collector was donated by financier John Herzog, Chairman Emeritus of Herzog, Heine, Geduld, Inc., a firm founded by his father in 1926 and about which John wrote A Billion to One: The Story of Herzog, Heine, Geduld, Inc.  John also served as Chairman of R. M. Smythe & Co. , an auction firm dealing in stocks, bonds, coins, and autographs. In 1988, John founded the Museum of American Finance, which is devoted to "celebrating the spirit of entrepreneurship and the democratic free market tradition which have made New York City the financial capital of the world."
The superb collection that John gifted to the Center includes bonds in multiple languages, denominations, and colors, including an extensive series of State of Israel Bonds.  One of the most precious pieces in the collection is an early document from 1822 that does not involve Jewish settlement in Palestine, but does involve the most famous of European Jewish banking families, the Rothschilds.  The piece in question was a bond for a £3.5 million loan taken out by Czarist Russia as contracted by Nathan Rothschild (1777-1836).  Rothschild was the third son of the founder of the family dynasty, Mayer Amschel from Frankfurt am Main.  Nathan was sent to England at the age of 21, eventually settling in London where he was actively involved in trading at the London Stock Exchange.  He compiled a massive fortune, which played a considerable role in making London the financial capital of the world.
The 1822 Russian bond from the Herzog Collection, featuring a Russian two-headed eagle in the center top, is in three languages (Russian, French, and English).  Most significantly, it includes Nathan Rothschild's signature in the top right margin.
Although this bond does not involve settlement in Palestine, it is important to note that Nathan Rothschild's nephew, Edmond (1845-1934) from the French branch of the family, was one of the most important philanthropic supporters of Jewish settlement in Palestine in the last 19th and early 20th centuries. He was a leading patron of the early Zionist settlement of Rishon Le-Zion, as well as one of the chief promoters and investors in the fledgling wine industry in the Yishuv (Jewish community in Palestine).
by David N. Myers, President and CEO of the Center for Jewish History.