(The following was written by Lea Shvarts, our summer intern, on what she gained from her time working and studying at the Center for Jewish History.)
I loved being a development intern at a historical institution such as the Center as I was exposed to such a huge and extensive archive every time I came to work. An enormous wealth of knowledge is at your fingertips whenever you come to the Center for Jewish History and all you have to do is search for keywords in the online catalogue. In my school, we get a lesson on how to conduct research once a year, whenever we have a research project in history class. Last year my teacher recommended that we not only looked through online databases but go to the NY Central Library.
I never got the chance to do so and stuck with finding articles online. My teacher had told us how exciting it was for her to conduct research in the library where she would pick out books, wait for them to be brought out and then sit down in a large reading room with her volumes. I figured I would like it as well, but I couldn't know that I would be just as excited and awe struck to research at the Center for Jewish History as she was in the library.
Going to the archive is similar to the experience my teacher described. You request materials through an online catalogue, wait for them to be brought down and then sit with them in a reading room (although the reading room is probably smaller at the Center- more personal for that matter). But there is so much more to it as well.
The Partners archives at the Center have books from decades ago that you can't find in libraries, and if you do end up being lucky and find them on Amazon they cost up to a hundred dollars or more. There is also so much archival materials from photographs to lecture notes from a century ago to manuscripts, posters, postcards, stamps, letters, and collections of folk songs. There are also interviews on tapes and plenty of digitized material that you can check out if they are too delicate to be taken out.
It's a very special feeling to take out someone's notes or a personal copy of a book from a century ago, hold it in your hands, and trace all the creases in the binding and the wrinkles in the weathered but crisp pages. I imagine the person that held the material before me, what parts of the world it has seen, and wonder about the soul that is still imprinted in the document.  It's very special to touch the memory of the past and make that connection.
I'm a young Jew living in New York City and although I've picked up some information about my people from my father and by watching movies, I really don't know about my ancestors or my homeland. I believe myself to be a Zionist because my dad is and I don't know much history. Or at least that's who I was, before coming to the Center for Jewish History and researching and reading for days.
I used to be only aware of a few general strokes in the expanse of human existence in relation to the Jews: the exodus from Egypt, Israel as the homeland, destruction of the temples, the Diaspora, Spanish Inquisition, Russian Pogroms, and, of course, the Holocaust. All are external events- forces pushing on the Jewish Community from the outside.
I didn't know anything about the actual Jewish people. How did they live and how did they view themselves and the world? How did the people change, what movements defined our history, what historians arose and what they said? I felt detached from the past and from the Jewish community around me. My eyes are open now and there is so much I want to know.
Jewish history isn't just a list of tragedies but the study of an expansive group of people, all around the world, ever growing and changing and alive. I learned about Haskalah, labor movements such as the Bund, migration to America and Palestine, secularism, the reform movement, Yiddishism and Zionism. I read the words of and about Moses Mendelssohn, Simon Dubnow, Emanuel Ringelblum, Ber Borochov, Moses Hess, Ahad Ha'am, Herzl, Brandeis, etc.
There were several things I found interesting. First was the idea of Zamling – shared by Dubnow, Borochov and Ringelblum. Zamling refers to the collection of materials about the people, urging the writing of and saving essays, diaries, stories and folklore from everyone.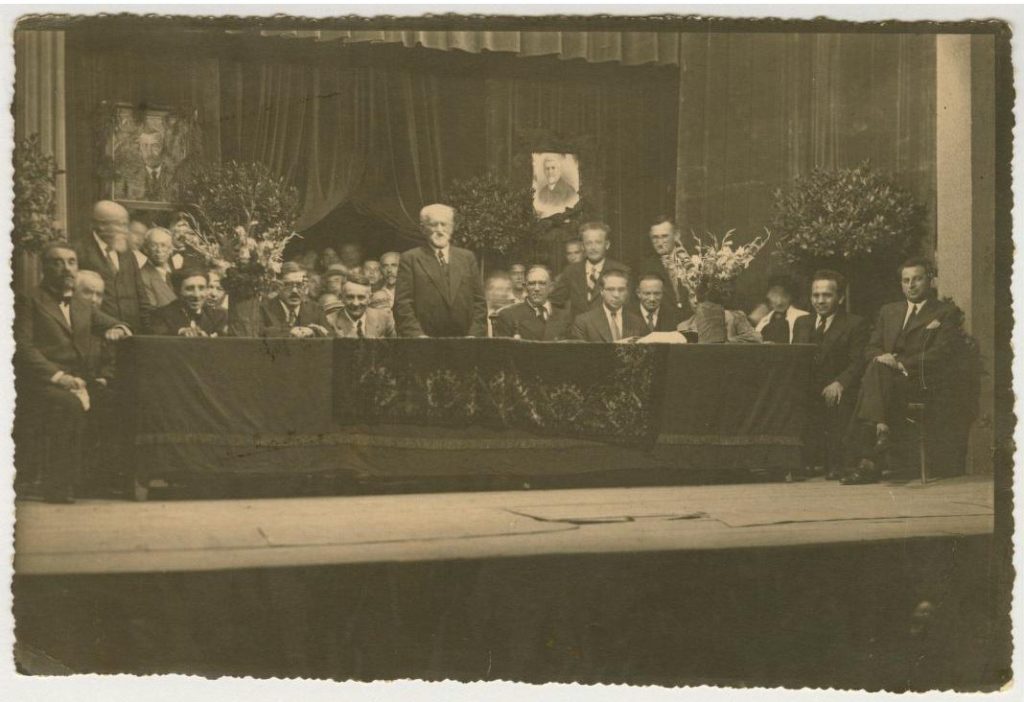 In 1925, was almost impossible for a Jewish historian to find a position at a university and YIVO, established at the time in Vilna, Poland, served as a cultural hub that also allowed historians to pursue Jewish Studies (in particular the history of Eastern Europe) and granted them monetary aid and mentorship.
However, the historians soon realized that there weren't enough resources for them to study. They decided that they should engage in Zamling first and then turn to analyzation. Zamling stems from the Yiddish word zamlen which means "to collect." YIVO focused on collecting and sourcing any documents of the Eastern European Jewry's past and present.
This approach embraced a different way of looking at history that historians such as Simon Dubnow and Ber Borochov claimed Jews had to embrace in the late 1800s. According to Dubnow, Jewish history had thus been defined by the works of so called "important men" and by the reports of the oppressors, and didn't focus on ordinary men. Dubnow viewed the common Jew as an actor in their own history and called for them to collect. Zamling would allow and rely on these ordinary people that weren't historians to record on aspects of their family or community life.
Emanuel Ringelblum would adopt this approach in the Oyneg Shabes. Ringelblum founded the Oyneg Shabes in the Warsaw ghetto in 1940 in an effort to record life in the ghetto. He wanted for the history to be written in the moment so that it wasn't blurred by memory or so that it wasn't written by the winning party (as he wasn't sure if a polish Jewry would even exist by the end of the war). Instead of writing monographs, the Oyneg Shabes made an effort to collect everything from tickets, posters, underground newspapers, letters, accounts on food kitchens, budgets and more. The Oyneg Shabes was also a close collective of people dedicated to preserving the present that wasn't limited to historians but also included authors, members of different political parties, a rabbi, leaders of food kitchens, and teachers. Their efforts have given us a broad and expansive look on the ghetto.
Ringelblum also stressed the idea of "writing history for the people by the people". He wanted to create a detailed and meticulous picture of the Jewish lower class, of the worker. He also hoped to bring about social and cultural change by disputing myths and correcting misconceptions.
This really changed my view of history. I like learning about the past by reading thick textbooks but these historians didn't stop there. They interacted with people, collected all the resources they could and helped bring about reform within their communities. They weren't simply stuck in the past but worked in the present and kept their mind on the future. The past, the present and the future were all connected for them and they were able to move through them with ease.
It's my prior view of history that contributed to feeling detached from the Jews. Simon Dubnow claimed that the Jewish people aren't defined and united by Judaism, but by historical consciousness. Being able to see that now, I can tell how important the work of the zamlers was. They weren't simply collecting papers but outlining Jewish identity.
I feel more connected to my own identity now; I don't feel detached at all. I have established a link with my people – whose portrayal lies in the archive, with my community where I am now so incredibly inspired to work and improve the Jewish Student Union in my school and with the future of the Jewish people – the prospects of life in Israel and in the Diaspora. I could never imagine how much the archive could change me and my view of the world.
As I leave, I know I won't forget it all and I'm excited with the prospects of the next year. I'm not going to stop learning and I am lucky that my school offers a class on Jewish History and Experience which now more than ever I can't wait to take. This year I will also be one of the Presidents of the Jewish Student Union at our school, and I have so much passion now for the club and really hope to work hard to make it more meaningful for everyone.
Lea Shvarts was a development intern at the Center this summer. This fall she will be a junior at Stuyvesant High School and president of the school's Jewish Student Union. She is passionate about history and activism and hopes to continue learning more about Jewish history and the modern Jewish Experience.