The late 1960s and early 1970s were, in part, characterized by the counterculture that swept through the United States during those years. Catapulted by the growth of social movement activism was an increased awareness of and desire to fix the problems plaguing American society, such as racism, sexism, poverty and the exploitation of labor. This period of American history was full of new and effective modes of political action built by groups that popped up all around the globe; many of which are not commonly referenced in popular discussions of activism during that period.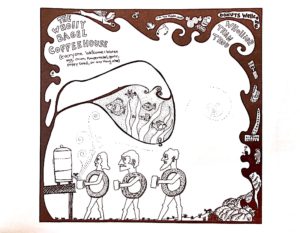 One group that arose during this period developed an interesting mode of political action. The Tzedek, Tzedek Collective was founded by Ken Giles, and their name was in reference to "tzedek tzedek tirdof" or "justice, justice you shall pursue." Originating from the Book of Deuteronomy, it is often cited by activists when looking at biblical principles. The collective defined themselves as a "Jewish group dedicated to pursuing social justice by just means," and operated the Wholly Bagel Coffeehouse, where they held discussions and conversations on critical political issues and "draw[ing] on [their] Jewish tradition to develop positions on [those] issues."
One issue the D.C. based group focused on in particular was food. Citing problems with many of the steps in the industrial process, such as the way food was raised, high prices contrasted by low quality, and exploitation of labor, the collective wanted to use their political power to legislate change.
Coffeehouse discussions like this were held on Sundays at The Quaker House on 2121 Decatur Place, near Dupont Circle in Washington D.C. At these events, bagels, coffee and other snacks were served, while their advertising made clear that only products sourced from community controlled local businesses were available, so as to make sure their everyday practice aligned with their core values.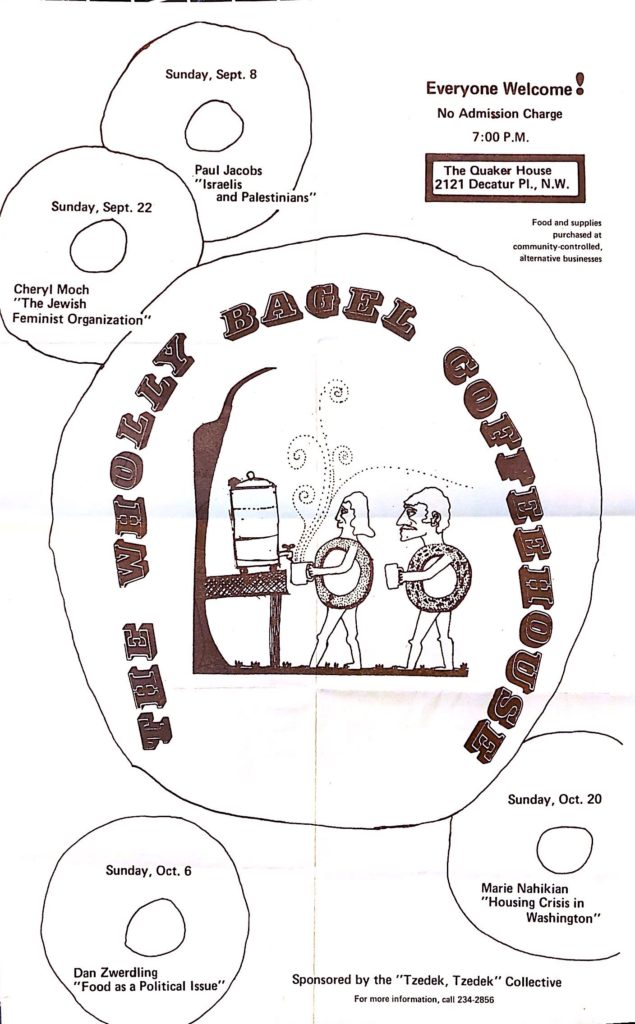 The collective often invited speakers that were experts in the issue at hand. For example, as seen on the advertorial poster above, two programs hosted by the collective included Cheryl Moch, the founder of the Jewish Feminist Organization, on 'The Jewish Feminist Organization," and Marie Nahikian, a community organizer, on "Housing Crisis in Washington." The collective's focus was broader than solely Jewish issues, although what made their discourse unique was that with each discussion, they attempted to look at the issues and their solutions through the lens of their Jewish tradition.
Lily Rubinstein, Center for Jewish History intern. Lily is sophomore at Georgetown University majoring in American Studies and Psychology.