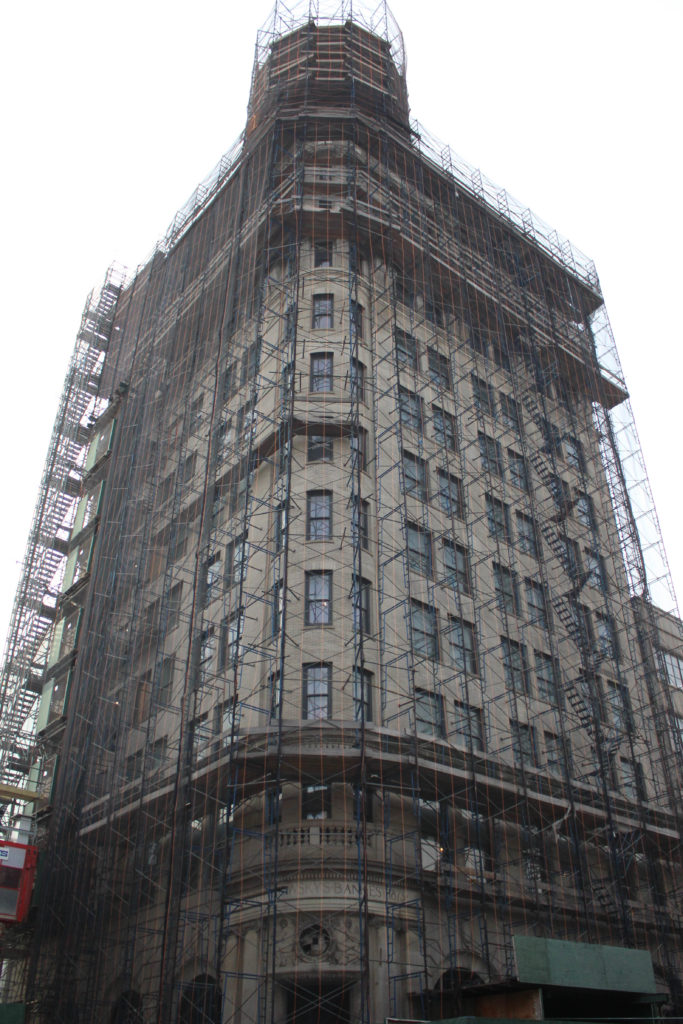 A couple of doors down from the Forward Building (and notably two stories taller) stands Jarmulowsky's Bank. Sender Jarmulowsky immigrated to America from Russia, and by 1873 he had set up his bank on the Lower East Side. In addition to the Jarmulowsky Bank Building, he was also instrumental in the construction of the Eldridge Street Synagogue and subsequently served as its first president.
While also built in the Beaux Arts style, the Jarmulowsky Bank features Hermes, the Greek god of finance as opposed to the socialist 'gods' on the Forward Building. Hermes was also the Greek god of travelers and his inclusion in the design was perhaps a nod to the immigrants of the Lower East Side that the Jarmulowsky Bank served. The iconic cupola that crowned the building (which according to legend was constructed in order to ensure that it was, in fact, the tallest building on the Lower East Side at the time) was torn down in 1990 although it is currently being rebuilt.
Sender's bank, as well as the sister bank established by two of his sons (who would eventually be convicted of bank fraud), met its demise on the eve of the First World War. Partially responsible was a cacophony of poor investment choices by his sons, mostly in real estate. The second reason was the rising persecution of Jews in Europe. European Jews in America started withdrawing their money to send abroad to their relatives in the old country, instituting a bank run that the bank would not recover from and would affect multiple other banks. The building would be sold and change hands multiple times before finally being slated to become a hotel as of Summer 2018.
Aspen Scafa, Center for Jewish History intern. Aspen is a senior at The King's College majoring in Religious and Theological Studies with a History Minor