In the heart of the Lower East Side stands a ten story building.  Completed in 1912, the Beaux Arts building was the first skyscraper on the Lower East Side and the home to The Jewish Daily Forward. The Forward was founded in 1897 by Abraham Cahan, a Belarusian-born Jew who came to America to escape charges of revolutionary sympathies and actions. At one point the largest Yiddish newspaper in the world, the Forward is one of the only remaining Jewish newspapers from the iconic Newspaper Row.
The slight socialist bias of the original newspaper is evident before even picking up a copy. Carved in stone above the front door are the profiles of Karl Marx, Friedrich Engels, Ferdinand Lassalle, and an unknown figure (often identified as Wilhelm Liebknecht, Karl Liebknecht, or August Bebel). However, despite, or perhaps because of his revolutionary background, Cahan worked to ensure that his newspaper reported objective news, as opposed to political propaganda.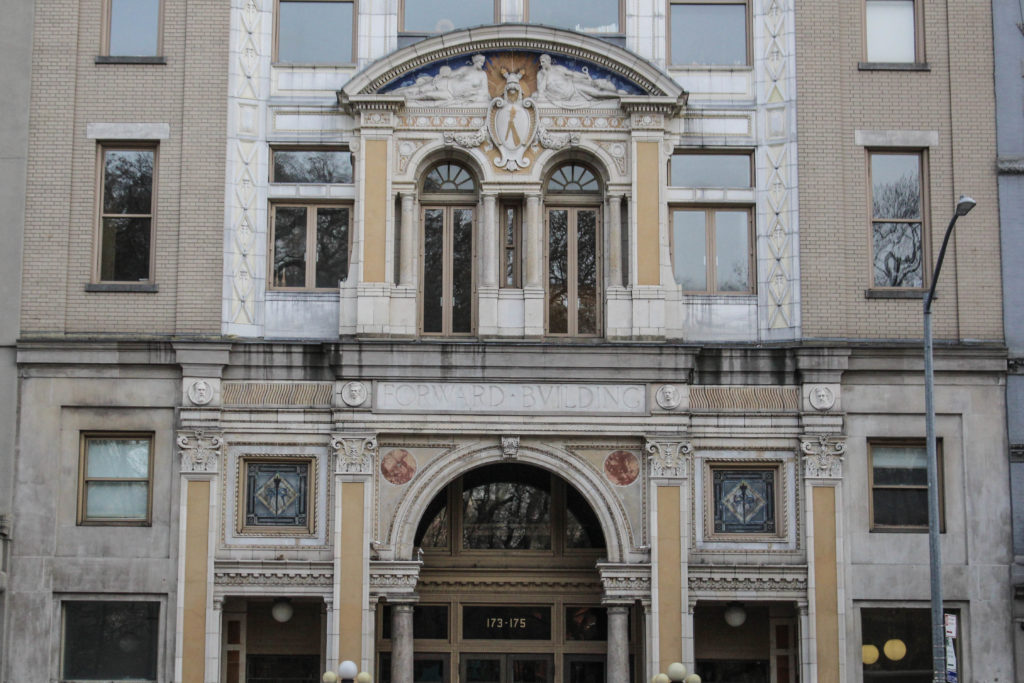 Because the founding of the newspaper coincided with an increase in Jewish immigration, Cahan also focused on helping immigrants settle down in America and learn about American culture. His write-in advice column, the often humorous Bintel Brief (literally 'bundle of letters') covered everything, from one reader's guilt at leaving family back in the homeland, to another's worries about dating a girl with dimples. The column still continues today in the online form of the Bintel Blog.
In 1974, the Forward sold the building and moved to 33d St. The original building was rented to a Chinese church for several years before being sold again. After changing hands several times, it became a residential building in 2006, with luxury apartments selling for upwards of 1.5 million.
However, the Forward's legacy lives on beyond the ten-story building on Broadway. It has shifted from its paper form to become an online newspaper released monthly in English and Yiddish and just recently celebrated its 120th birthday.
Aspen Scafa, Center for Jewish History intern. Aspen is a senior at The King's College majoring in Religious and Theological Studies with a History Minor