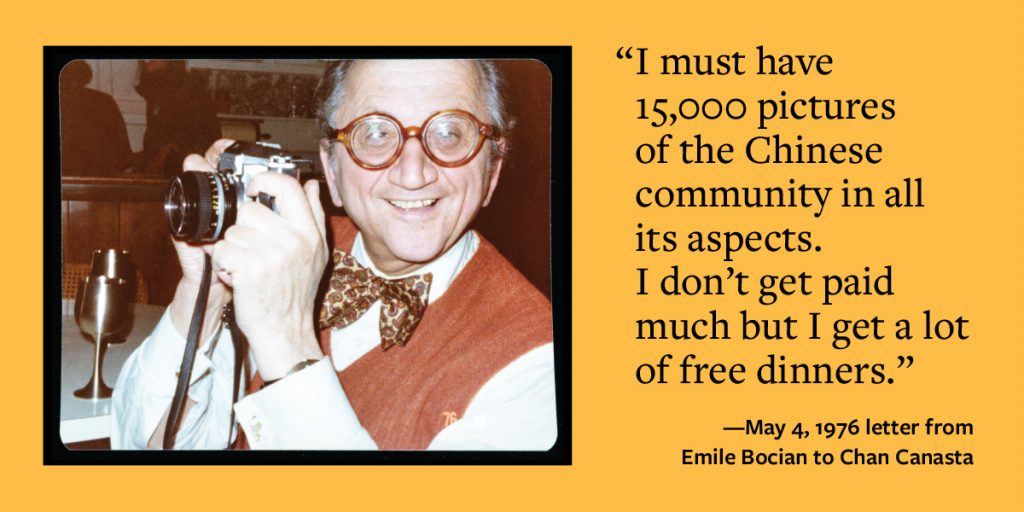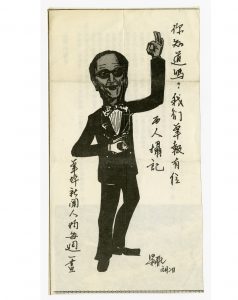 Emile Bocian (1912-1990), son of Eastern-European Jewish immigrants, was perhaps the only non-Asian resident of Chinatown's iconic Confucius Plaza apartment complex at the intersection of Bowery, Doyers Street, and Division Street in the 1970s and 80s. Through a series of chance encounters, he was employed as a photojournalist for a New York-based Chinese-language newspaper, The China Post. [Left: A section showcasing one Chinatown journalist per week featured a caricature of Bocian with the caption, "Do you know that we have a western photojournalist in our press?"]
Though a lifelong photography hobbyist, Bocian's former career had been in public relations. In a series of letters to his friend Chan Canasta, noted mentalist and TV magician, Bocian explained the roots of his connections with Chinatown and The China Post: "I got involved with Chinatown when a theater owner asked me to get some publicity for an unknown actor in a movie Fist of Fury…I did such a good job that it started the avalanche of kung fu movies in the U.S. …The theater owner also owned this paper and that is how I am here."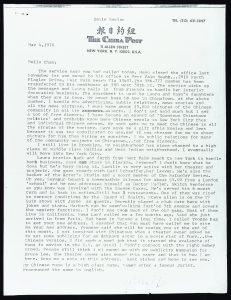 Like many statements from the former PR man, this one contained more than a little hyperbole. (Bocian was later quoted in the New York Times as a self-described "former press agent to Bruce Lee.") In the same letter, Bocian tells Canasta about the fictional backstory he created for himself to foster trust in his adopted community: "I tell them I was born in K'ai Feng so they can understand why a Jew is helping the Chinese. K'ai Feng was a capitol [sic] of China in the 11th century when it had a large Jewish colony." [Right: Letter to Chan Canasta dated May 4, 1976]
Though Bocian spent his final decades documenting and promoting New York City's Chinese community, he remained an outsider in the neighborhood, as he was not Chinese-American and never learned the language. Over his long residency and photo-journalistic career, however, Bocian and his camera became familiar fixtures on the streets of Chinatown. After his death, the July 27, 1990 edition of The United Journal, a Chinese-language newspaper that employed Bocian after The China Post had ceased publication, paid tribute to him as "a dear friend of NYC Chinatown" and "[one of] the 3 most respected Jewish persons in the New York Chinatown, the others were Raber and Cohen." (Irving R. Raber was a real estate developer in Chinatown, and Irwin Cohen was an immigration lawyer who had maintained an office in Chinatown for 25 years.)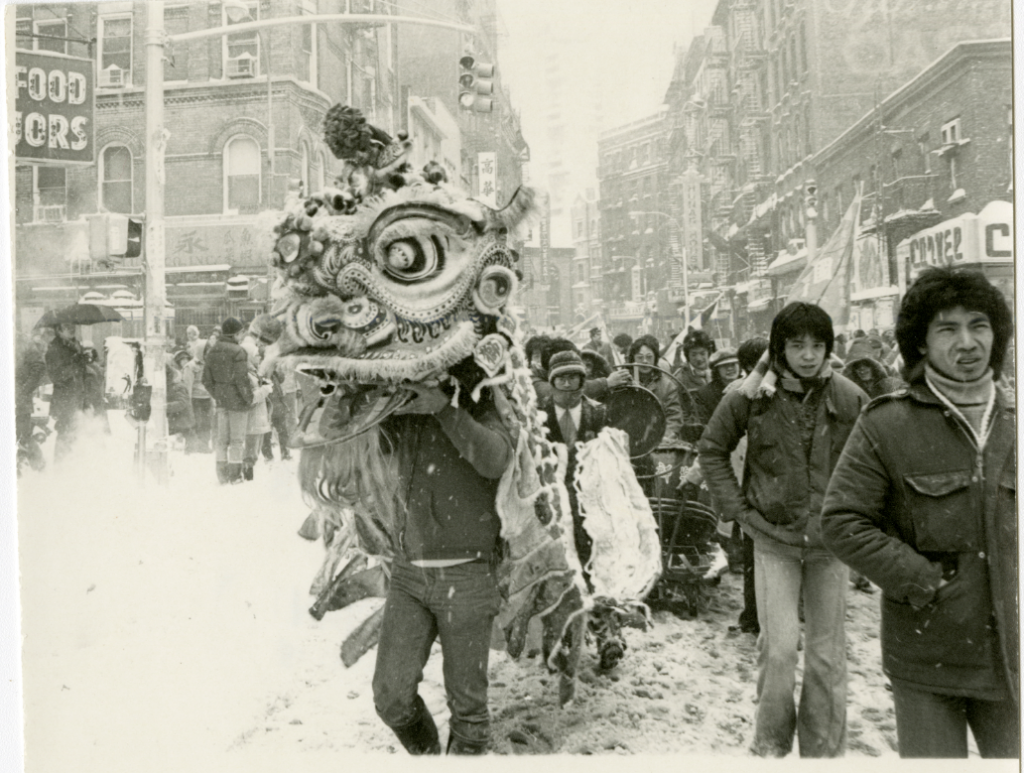 During his years as a photojournalist in Chinatown, Bocian amassed an archive of approximately 120,000 photos, largely featuring the places and faces of his adopted neighborhood. After his death, his friend, the actress Mae Wong, happened upon the photographs and some personal belongings in his apartment, which she saved until the Museum of Chinese in America (MOCA) had space for them in the mid-1990s.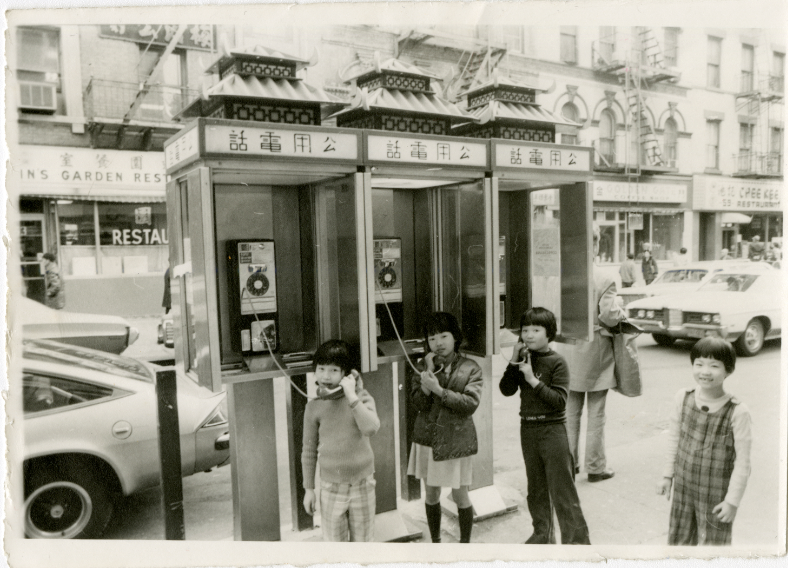 On January 15, 2020, MOCA's Assistant Director of Collections (and co-curator of the exhibition) Kevin Chu brought a box of photographs and a handful of memorabilia to the Center for Jewish History in preparation for this upcoming joint exhibition at the Center. One week later, the Chinatown building housing MOCA's archive went up in flames. Despite this tragedy, this fortuitous timing enabled the two museums to forge ahead with the planned exhibition, notwithstanding the extensive damage to MOCA's collections.
Growing out of a collaboration between MOCA and the Center for Jewish History that started in 2019 with a shared CLIR grant for Digitizing Hidden Collections, this exhibition, organized by the Museum of Chinese in America and Center for Jewish History, will showcase never-before-seen photos of protests, celebrations, and crime scenes, as well as storefronts and streetscapes that provide a glimpse into a vanishing New York. It will also feature snapshots of local luminaries and Chinatown visitors as far-flung as Cardinal Cooke, Muhammad Ali, and Big Bird.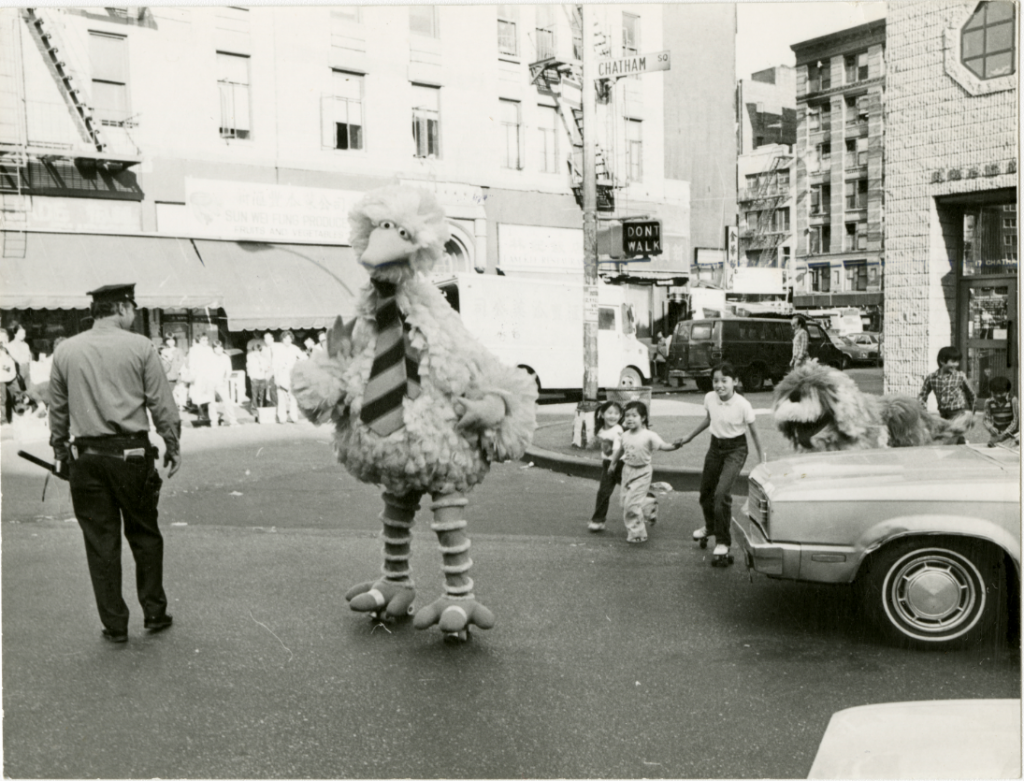 The opening of An Unlikely Photojournalist: Emile Bocian in Chinatown, originally planned for March, has been postponed due to the current closure of the Center for Jewish History. Please check back on our website for updates about the opening date, and look for additional blog posts in the coming weeks.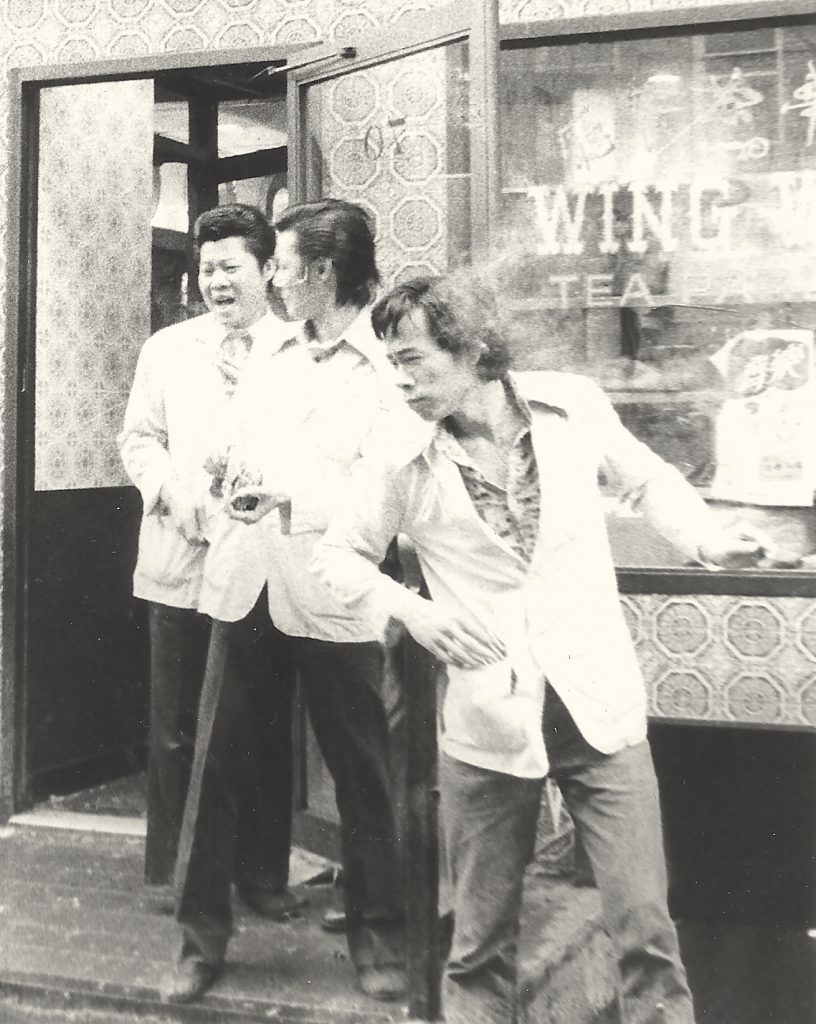 ---
Lauren Gilbert (co-curator)
Senior Manager for Public Services
Center for Jewish History